For Total Beginners, and Worth a Look for the Self-Taught


What the Beginners are Saying:
"I've spent many hours fantasizing about walking into a party and jamming, but never could. Thanks to you and my brother (who gave me your package for Christmas), I'm on my way!"
- El Segundo, CA

"We taught ourselves to make ice cream. David Harp taught us how to play the blues. He's great!"
- Ben & Jerry

"I tried to read music for years. I learned your harmonica music system in minutes."
- Brooklyn, NY

"I learned more in 15 minutes from your book than I'd learned in the rest of my harp-playing life (25 years)."
- Stanley, ID

Really Love Blues and Rock? Try Instant Blues Harmonica!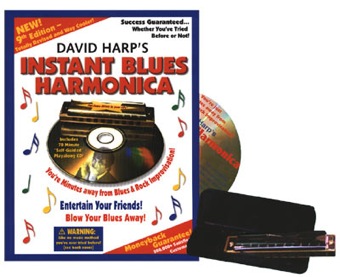 If you want my most comprehensive method for playing blues and rock music (but you'll still learn your first blues tune within minutes), try:
Instant Blues Harmonica: 9th Edition Book and CD Method.
Over 225,000 copies in print (since the old First Edition, now a collector's item), it'll teach you everything you need to know to improvise your own blues and rock music.
It's aimed especially at people who want to be able to improvise their own blues or rock music right away.
(IBH9-BCD) Instant Blues Harmonica 80 page Book and CD $16.95

(IBH9-BCD) Instant Blues Harmonica Book & CD with Key of C harmonica $19.95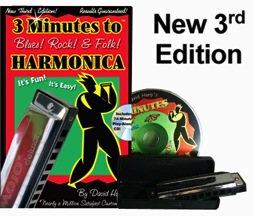 Like All Styles of Music?
My
T
hree Minutes to Blues, Rock, Folk, Country, and Classical Harmonica
covers it all (although if you only like Blues and Rock, you probably want Instant Blues Harmonica).
It's simple to use, and aimed at getting you up and playing in the style of your choice, right away. More folk and classical tunes (and a bit of country) than what is in Instant Blues Harmonica, but not as much depth or detail on playing blues and rock. I consider it a general "sampler" method for people who aren't sure of what style they'll want to end up focusing on. Try lots of different styles, then make up your mind!
(TMBRF-BC)
T
hree Minutes to Blues, Rock, Folk, Country, and Classical Harmonica
96 page Book & CD $12.95

(TMBRF-FC)
T
hree Minutes to Blues, Rock, Folk, Country, and Classical Harmonica
Book & CD with Key of C harmonica $16.95

Low Budget? And Want to Learn While You're On the Move?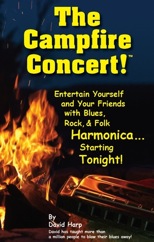 If you already have a ten hole "Key of C" harmonica (which means that your harmonica will have a little letter "C" stamped on it somewhere), and you're on a budget, try my:
The Campfire Concert: How to Learn Enough Blues, Rock, and Folk Harmonica While You Hike, to Wow 'Em Around the Campfire That Very Night!

It's wind-powered — with your wind, and one of the "Greenest" things you can do! Especially created for people who want to learn to p
lay the harp while they're on the go!
Price includes two downloadable mp3's for playalong and additional instruction.
Click here for rear cover text.
(CC-B) Campfire Concert 48 page Book $4.95

(CC-BH) Campfire Concert Book with Key of C harmonica $11.95
Interested in Songs, Not Blues or Rock Improvisation?


The Pocket Harmonica Songbook
is a complete beginner's method with lots of folk, classical, and blues songs. Some are easy enough to play right away, some will be challenging enough for intermediate level players. A good book to get if you only want to play songs that others will recognize. Not for those who want blues or rock improvisation, though.
(PHS-B) Pocket Harmonica Songbook 64 page book $6.95

(PHS-BH) Pocket Harmonica Songbook Book with Key of C harmonica $12.95

Click here to view or edit your shopping cart!