Music Theory Made Easy

No "Reading Music" Required!
Music theory is nothing more, or less, than an incredibly useful language that musicians use to describe what they do, and why. Unfortunately, music theory books almost always demand that the reader learn to read "standard music notation" before they learn music theory — but not this one!

"Requiring students to learn how to read standard musical notation in order to understand music theory is like requiring beginning cooks to learn Chinese in order to be able to stir-fry vegetables…it just doesn't make sense!" - David Harp

More than 100,000 people have used this book to compose their own songs, improvise any style of music, play Major, Minor, Blues, and Jazz Scales and Chords, read chord charts, play Blues, Rock, Country, Pop, and Jazz Chord Structures, and jamm with other musicians! Perfect for beginners, or for experienced musicians who don't have much formal music training!

If you want a book only, use the 2nd Edition version, which is made for use without a recording. Or get the new and revised 3rd Edition, with a CD demonstrating all of the examples!
Both are for use with ANY musical instrument!

(MT-B) 2nd Edition Music Theory 80 page book (no recording )$7.95


(MT-BCD) 3rd Edition Music Theory book & CD $14.95

Three Minutes to Blues, Rock, Folk, Classical, & Celtic Flute!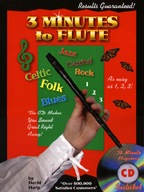 This amazingly simple package, consisting of a 80 page book, 74 minute playalong CD, and traditional "Feadog" style Tin Flute (AKA "tinwhistle"), will teach you to play Folk, Blues, Rock Classical, and Traditional Irish music right away! And even a bit of Jazz!

Dozens of songs (including Greensleeves, Amazing Grace, House of the Rising Sun, & Beethoven's Ninth) are notated with incredibly easy to read notation. Each finger has a number, so you just play by the numbers.

Plus chapters on Blues and Jazz Improvisation, a little rock and roll, Christmas Carols, Fiddle Tunes, and traditional Irish and English Music.

(3MF) 3 Minutes to Flute Book, CD, and "Feadog" $16.95

Instant Guitar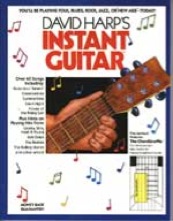 Play guitar chords instantly using only one finger!

Like nothing you've ever seen or tried before! Strictly for beginners! Great for kids, parents, teachers, scout leaders—anybody who'd like to play a bit of Folk, Blues, Country, Classical, Jazz or "New Age" music right away! Hard to believe, but instant results guaranteed!

Ages 8 and up. Includes 80 page Book, 98 minute recording on Two CDs, and our invention, "The ChordSnaffle™", which lets you play chords with only one finger!

(IG) Instant Guitar Book, 2-CD Set and Chordsnaffle $16.95

Click here to view or edit your shopping cart!