Presentations for Corporations, Non-Profit Orgs, and Government/Educational Groups
As you know I've taught more than a million people to play blues, rock, and folk harmonica. With results within minutes — guaranteed!
But I've taught hundreds of thousands of people to increase their ability to focus and reduce their level of stress though mindfulness meditation. And written a number of books, such as the international bestseller The Three Minute Meditator, on that latter subject.

Since my graduate school years (studying cognitive-behavioral psychology), I've been experimenting with different methods for teaching individuals and groups to lower their stress level, so that they can be happier and more productive, at home or at work.

After years of testing and research, I believe that I've developed the most effective way to do this for groups of any size, from one to thousands. It may sound a bit funny, but it works, in part because it's fun to do.
My group clients include Kraft Foods, Merck, Blue Cross/Blue Shield, the Red Cross, Ben & Jerry's Ice Cream, and the FBI. For more information on my presentations, and to see a client list, click here.

As Jerry Greenfield, Co-Founder of Ben & Jerry's, puts it:
"If it's not fun, why do it? David Harp's Harmonica Based Stress Reduction method works, because it makes stress reduction, fun. So people actually do it. And keep doing it. And get the benefits that reducing stress can provide in the workplace."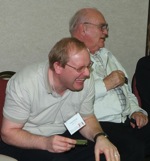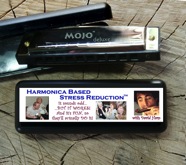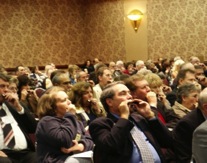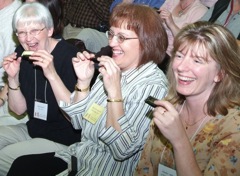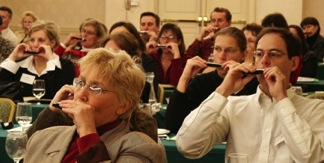 Why does Harmonica Based Stress Reduction™ work?
Because the same ability that makes playing harmonica possible — paying close attention to your breathing — is also the most effective form of stress reduction known to humankind.
And here's what a few more of my clients say:
"...the most popular speaker of our three day event."
— American Red Cross

"...David's presentation was exactly on target and was perfect."
— Society of Criminal Lab Directors/FBI Symposium

"...(David) engaged a really difficult crowd. It was clear by the audience participation that these usually very serious people were having a great time."
— Acxiom Data Products

"David was great — a big help during a difficult time. And our managers now have a little in-joke. When things get stressful, we take a deep breath, and say: 'Better go find our harmonicas!' It really works!"
— Nancy Nicolosi, Manager, Cleveland Marriott Hotel
Got a Group of Any Kind?
If you've got a group of ANY kind, and want to check out the possibilities of my doing a presentation of them, just use the Contact Me button, and let's talk!
I have programs for fund-raising to get the money to bring me to schools, non-profits, community groups, and more. So shoot me an email!