Nursing Homes and Chronic Obstructive Pulmonary Disease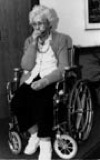 Benefits include the respiratory enhancement and stress-reduction effects of the harmonica (in a recent pilot study a group of frail elderly residents increased their aerobic capacity by an average of 36 percent in only six weeks of harmonica playing, with anecdotal reports of decreased use of anti-anxiety medication).
The programs are taught using David's book
Better Breathing Through Harmonica
as a training manual. His children's video
Make Me Musical
is also used, since it is both an easy way to teach the residents to play (just turn the DVD on) and most nursing home groups love watching the kids! David hopes to complete a specific training video for those presenting nursing home programs within the year.
(Left) Katherine derived pleasure and benefits from the time she learned to play at age 92, until her death at 97. It's never too late!

The above-mentioned benefits of harmonica can work for people with COPD (Chronic Obstructive Pulmonary Disease), too.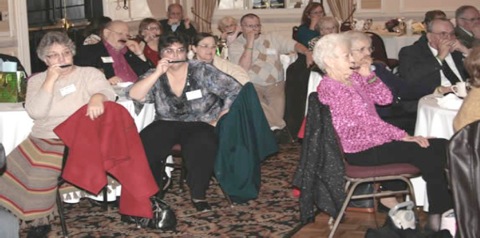 In this recent COPD group event (right), David explained the connection between dsypnea (breathlessness) and stress or anxiety, and how to use the harmonica to avoid the "Dyspnea-Anxiety Cycle."
Please email us at harpstuf@sover.net if you are interested in this work, as David has some new material on the subject!